중국산 게임으로 추정되는
WeLLK
입니다.
아이팟터치의 WeLLK
는 마작과 비슷하지만, 퍼즐의 그림이나 나오는 방식이 좀더 모던화된 게임입니다.
게임방식
은 똑같은 그림을 빨리 찾아내어 짝을 하나씩 맞추어주면 됩니다.
중간에 다른 방해물이 있거나, 직선이 꺾이는 횟수가 많으면 짝을 맺을 수 없습니다.
화면 하단에 시간 제한도 있습니다.
짝을 맞추어줄때마다 시간은 다시 늘어납니다.
게임 테마는
포켓몬,디즈니,WOW
세종류인데,
포켓몬이 게임하기에는 가장 수월합니다.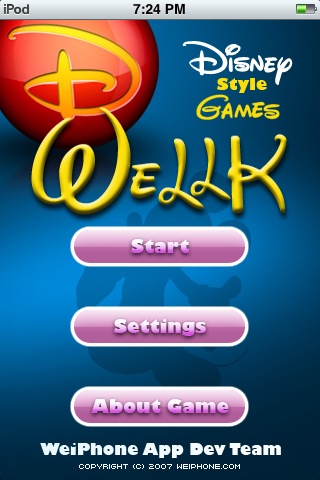 소스 :
http://app.weiphone.com/installer
카테고리 : Weiphone
UGG Boots For Sale

2012.12.28 15:43

?"Preparation is a big advantage," Allison said. "And we have an outstanding staff that has gone above and beyond the call of duty." He said http://www.cheapmbtshoesfor.com Cheap MBT getting vans to apartment buildings has been very difficult but not the only obstacle, especially in buildings where power was lost and elevators aren't working.?"Some deliveries of back-up oxygen have required?employees to haul 'E' tanks up as many as 41 flights of http://www.cheapmbtshoesfor.com MBT Shoes dark stairs to bed-bound patients who have lost telephone service as well as electricity." Daniel DeSimone, president and CEO of Continued Care of Long Island, noted that his company is working to ensure that as many http://www.swissmasaimbtshoes.com Masai MBT oxygen patients as possible in his community get their oxygen, whether they are his clients or not. "We are providing oxygen to patients who are not ours," he said, noting that http://www.swissmasaimbtshoes.com MBT Shoes many of his competitors are still unable to operate because of the storm. Actual results may differ materially from the anticipated results discussed or implied in http://www.discountmbtshoeshotsale.com Discount MBT Shoes these forward-looking statements because of numerous possible uncertainties. Words like "may," "plan," "contemplate," "anticipate," "believe," "intend, http://www.uggbootsonsale.tk/ugg-boots-for-women-ugg-classic-tall-5815-c-1_19.html UGG Boots 5815," "continue, http://www.uggbootsonsale.tk/ugg-boots-for-women-ugg-fox-fur-5685-c-1_20.html UGG Boots On Sale," "expect," "project," "predict," "estimate," "could," "should," "would," "will," and similar expressions, should be considered as identifying forward-looking statements, although other phrasing may be used. Such forward-looking statements involve risks and uncertainties and may not be realized due to a variety of factors, http://www.uggbootsonsale.tk/ugg-boots-for-kids-ugg-classic-short-5251-c-5_15.html Cheap UGG Sale. Additional factors that could cause actual results to differ materially from those expressed in the forward-looking statements are discussed in the reports (such as Annual Reports on Form 10-K, Quarterly Reports on Form 10-Q) filed by Southern National Bancorp. You should consider such factors and not place undue reliance on such forward-looking statements. During the Grand Opening Weekend (Thursday, http://www.uggbootsonsale.tk/ugg-boots-for-women-ugg-classic-cardy-5819-c-1_26.html UGG Boots Sale, November 8 through Sunday, November 11, 2012), customers can also enter to win a flat screen television or Kindle Fire, http://www.uggbootsonsale.tk/sale-cheap-ugg-boots-langley-5608-black-p-205.html UGG Boots For Sale.The new location marks the 10th retail store Goodwill has in Baltimore County. The new Catonsville store will create thirteen new jobs in the community. Area residents will also be able to donate unwanted clothing and household items at the location. "We are thrilled to be opening our 29th store in the area," said Lisa Rusyniak, President and CEO of Goodwill Industries of the Chesapeake, Inc.? "Catonsville will be a great location for us with many loyal shoppers. Our retail stores fund our job training and placement programs and Goodwill donors and shoppers are vital to our mission."? By donating and shopping at Goodwill, consumers help fund job training and placement programs for those with disabilities or other disadvantaging conditions. For more information, visit www.goodwillches.